Same-Day Sciatica Pain Treatment In Englewood
Fast, Effective Sciatica Relief
Sciatica is caused by compression on the sciatic nerve and the pain can be excruciating. The low back pain that radiates down the back of the leg can be debilitating. At Teague Chiropractic, we understand how discouraging it can be to complete even the simplest of daily tasks with this pain and we are here to alleviate your sciatica. We are proud to offer same-day appointments, have convenient hours, and accept insurance, including medicare and medicaid.
We can see you today – Call (937) 836-1000 or book an appointment online now!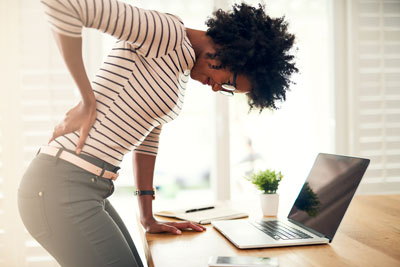 Sciatica Pain Relief Without Surgery
At Teague Chiropractic, we offer the most effective chiropractic techniques to help relieve your sciatic nerve pain quickly. Dr. Teague will work with you one-on-one to establish a customized treatment plan. The first priority is to get you the pain relief you need fast, with a long-term plan to heal the underlying cause of your sciatica pain.
You don't have to live in pain – Call (937) 836-1000 or book an appointment online now!
Teague Chiropractic is the best ever!! My back feels incredible after I am adjusted. I recommend them to everyone!

I have been going to Dr. Teague for many years. I had lower back issues that would flare up from time to time. Dr. Teague always fixes me up. He's a very talented and capable chiropractor that I recommend to anyone with issues.

Had been going to another Chiropractor for about 5 months without any real relief. After going to Dr. Teague after just 3 visits I felt much better and would recommend Dr. Teague to anyone.

Dr. Teague is always able to get me in when I need him. He and his staff are very friendly and wonderful. He completes my adjustments quickly and their hours are great so I am able to get in before work. Thanks Dr. Teague and your staff! You are all awesome!

Dr. Teague and his staff are always pleasant and helpful. Before I started seeing Dr. Teague I thought I would have to live with chronic back pain the rest of my life, however once I started seeing him, I no longer live with back pain. Thanks Dr. Teague helping me to feel younger than my age.

Dr. Teague is awesome and he always does great work. He is friendly and his staff is amazing.

Teague Chiropractic has a very friendly and welcoming atmosphere, with exceptional staff. I've suffered from crippling back pain for years and since seeing Dr. Teague I've had so much relief. With regular visits I now have my life back. I highly recommend Teague Chiropractic.

Dr. Teague helped relieve the chronic pain I was experiencing in my legs. Thanks to Dr. Teague I am now able to return to running! Thank you Dr. Teague for your help.

I have been going to Teague Chiropractic for several years and with amazing results. I was in extreme pain and through several treatments and continuing maintenance I am able to go about my daily life with ease. I would recommend Dr. Teague to all.

I had some pre existing injuries in my lower back and tendonitis in my shoulder. A couple visits, and i was feeling 100% again. Dr.Teague does an amazing job and addresses anything from a bad knee to adjusting your sinuses. I highly recommend him to anyone for all ages.

I've been going to Teague Chiropractic for a few years now. My shoulder would not stop hurting, but after a couple of visits with Dr. Teague, it stopped hurting and hasn't hurt since!! He's also been able to adjust my back and neck which keeps me from having headaches. Great place to go!
Book Your Appointment Online
Gentle Chiropractor Serving Englewood, And Surrounding Areas