Chiropractic Care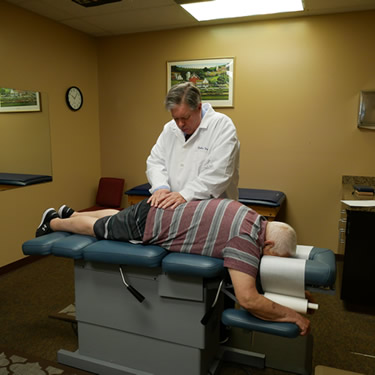 Chiropractic has been helping people of all ages with a variety of health issues for over a century-without the use of drugs or surgery.
At Teague Chiropractic we specialize in full spine adjusting.
Proven Truths
Being healthy is normal.
Your nervous system controls everything in the body.
Injury and stress can overload your nervous system.
You will need more than one chiropractic adjustment.
How long you benefit from chiropractic care is up to you.
Our Popular Techniques
Dr. Teague uses a variety of techniques under the umbrella name of Palmer Package. These are methods that he learned as a student at Palmer College, which is considered to be the finest chiropractic university in the world.
Our care does not involve popping and twisting of the spine. The techniques we use help our patients to relax and enjoy their office visits. Sometimes our patients also receive passive care. These remedies include hot and cold packs, ultrasound, spinal decompression, electrical muscle stimulation and cold laser therapy.
Conditions That We Can Frequently Help
We see many adults that come in with back pain, neck stiffness, migraines and sciatica. Dr. Teague is also an expert in helping people overcome the following three conditions. He is the only chiropractor in Englewood able to handle these various problems.
Extremity pain: Dr. Teague is extremely experienced in the adjustment of knees, shoulders, feet, hands, elbows, ankles and wrists.
TMJ: The technique that Dr. Teague uses has been in the making for 10-15 years. He has the capability of aligning the jaw within just a few adjustments.
Vertigo: Our practice uses a cutting-edge technique developed by a Canadian orthopedic surgeon. Dr. Teague has been using this method of re-aligning the crystals in the middle ear for 15 years. It usually only takes one adjustment but can take up to three.
Most patients will feel a difference on the very first day. If the problem is chronic, it can take two to three weeks for all symptoms to subside.
We'd Love to Work with You
We have the tools and expertise to make a difference in dozens of conditions. Patients trust our skilled care and feel confident in our ability to help them. Whether you've just suffered an injury, or have been dealing with many symptoms on a continuous basis, you have come to the right place. Contact our friendly office today! We accept insurance and have on-site X-rays.
CONTACT US »

Chiropractic Care | (937) 836-1000