Meet Dr. Albert Teague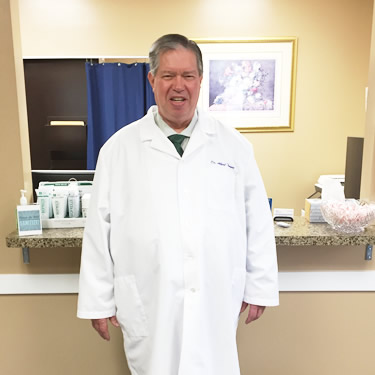 Dr. Teague is passionate about providing his patients with state-of-the-art service at his chiropractic care center. At Teague Chiropractic we welcome patients of every age, but place more of our emphasis on adults with acute and chronic health issues. We emphasize a gentle, natural approach to health care, with customized care options.
A Third Generation Chiropractor
Dr. Teague has enjoyed being a part of a large, close-knit family. His mother would often drop him off at his father's practice while she ran errands. At the age of five, he would sit down and watch his dad adjust patient after patient. This scenario played itself out at least a dozen times over several months. One day he found himself thinking that he, too, wanted to adjust people!
After graduating from Ohio University in Athens, Ohio, Dr. Teague enrolled in Palmer College of Chiropractic. He received his Doctor of Chiropractic degree in 1980. He felt great happiness to be a graduate of the renowned chiropractic college.
After graduation, Dr. Teague moved back to the Dayton area, opening his first office in Englewood. He stayed there for 10 years. In 1991, he opened his current location in the center of the city.
A Knack for Chiropractic
Dr. Teague, from the outset of his career, took naturally to his profession, achieving long-lasting results with those he served. Confidence spills out of him, and his many patients lean on his certainty and passion.
Practice Evolution
"Fixing the spine" is Dr. Teague's vision; not just chasing after symptoms. Because of his passion for helping people, Dr. Teague is the only chiropractor in his community that does full spine adjusting. He looks at each patient as a puzzle; to unravel the mystery, the entire spine must be addressed-not just the area that hurts.
He has gained valuable insight over the years on how to be a better and better doctor. His adjustment styles are always being improved and refined. Dr. Teague is all about making good-great!
CHIROPRACTIC CARE »
On a Personal Note
Dr. Teague has been married to his sweetheart for almost three decades. When he's not in the office helping people, he loves to putter around at home and spend time with his wife.
Come and See Us Today
We warmly invite you to be a part of our close-knit chiropractic family. You can count on Dr. Teague's experience and caring to help you meet your health goals. We feature on-site digital X-rays and are in-network providers. Contact us today for a free consultation!

Dr. Albert Teague | (937) 836-1000